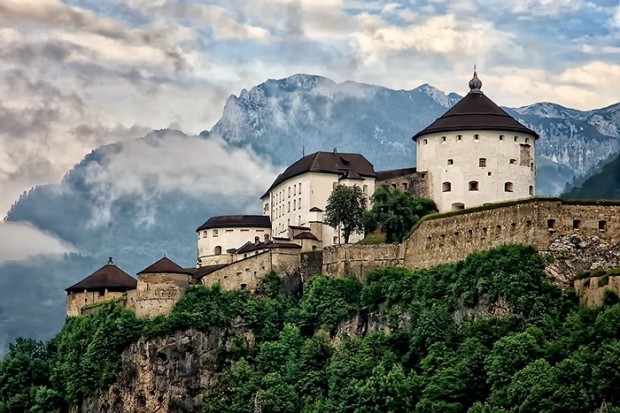 Festung Kufstein is a massive fortification dating from the mid 12th Century, although the only main part from this period surviving is the Upper Castle Barracks and these were heavily reconstructed.
The Castle went through continues enlargement and modernisation from it's inception. The Emperor's Tower was completed in 1522 and is the best preserved medieval part of the Castle complex. In the following three centuries the Castle was occupied by the military and had more and more fortified features added. The Castle Rotunda (pictured right above) was built around 1475. The "Peacock's Tail" is a typical 16th century earth and brick bastion, with other bastions added behind it. The last major works to be carried out were early in the 19th century when various barracks were constructed.
One of the most interesting features of the Castle is in the Civil Tower – the "Heroes" Organ was the first open air organ in the world and was built in 1931. Concerts are given at midday daily during the summer months. The Emperor Maximillian Cable Car was re-opened last year, although at the date of Shaun and Alison's visit in 1992 it was still closed for rennovation.
In both the World Wars the tunnels of the Castle were used for shelters.
Like many Castles Kufstein's main function today is as a museum, but it is still one of the largest and most impressive of Austria's many medieval fortresses.