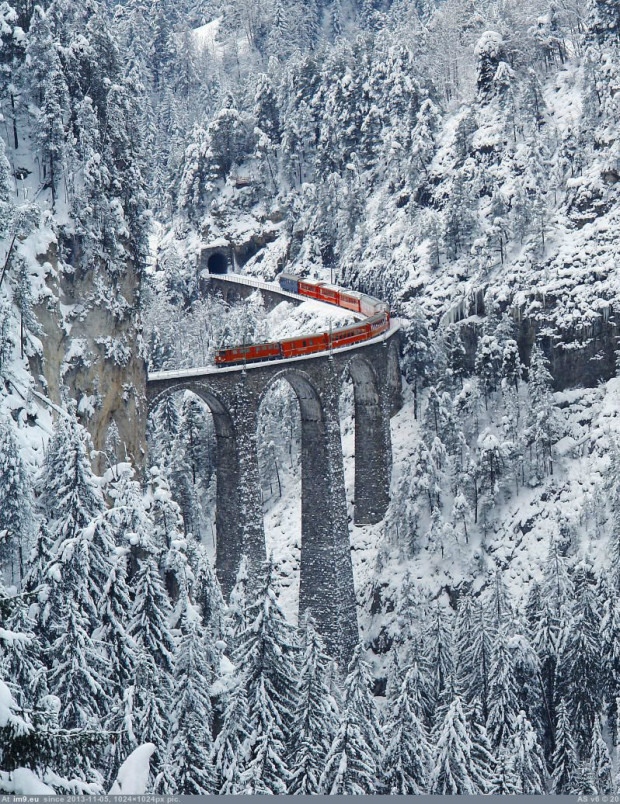 The Landwasser Viaduct is the largest and most spectacular structure along the 63-kilometre stretch of the Albula Line between Thusis and St. Moritz.
The Landwasser Viaduct is a single track six-arched curved limestone railway viaduct. It spans the Landwasser River between Schmitten and Filisur, in the Canton of Graubünden, Switzerland.
Designed by Alexander Acatos, it was built between 1901 and 1902 by Müller & Zeerleder for the Rhaetian Railway, which still owns and uses it today. A signature structure of the World Heritage-listed Albula Railway, it is 65 metres (213 ft) high, 136 metres (446 ft) long, and one of its ramps exits straight into the Landwasser Tunnel.
The Landwasser Viaduct has six arch spans 20 metres (66 ft) in width, resting on five high pillars. The railway line near the viaduct has a slope of 2 percent, and in plan a circular arc with a radius of 100 metres (330 ft).
The southeastern abutment of the viaduct is located on a high cliff, and at that point, the tracks lead directly into the 216 metres (709 ft) long Landwasser Tunnel. The viaduct's masonry is approximately 9,200 cubic metres (320,000 cu ft) in volume and is jointed with limestone dolomite.
The Landwasser Viaduct is widely-admired both by specialists in engineering and the public in general. The construction in 1901/02 of the three main pillars was, and is, a masterpiece of civil engineering – and all the more so when we consider that they were built without scaffolding and using just two cranes. The Landwasser Viaduct got its first major re-build in 106 years – as the RhB carried out a gentle facelift, from March to November 2009, of the brickwork and tracks.
The 142 metre-long bridge carries the railway line in an impressive sweeping arch of 65 metres in height over the wild valley of Landwassertal, before plunging it into a tunnel cut into the towering vertical rock face.
The structure was designed to harmonise perfectly with its mountainous surroundings, and the unique interplay of nature, culture and technology found on the Albula and Bernina lines is reflected particularly well in this viaduct built of natural calcareous dolomite stone.