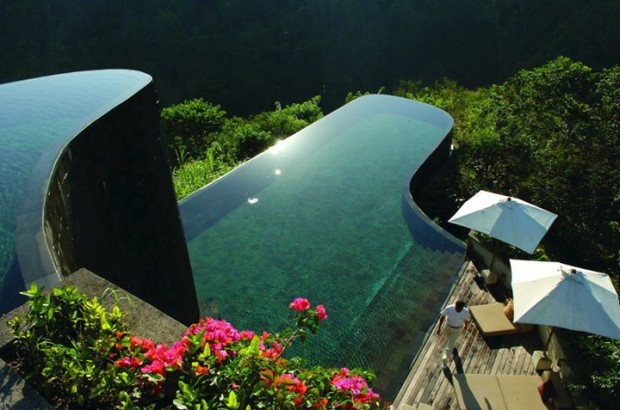 Infinity pools freak me out; for some reason I always think I'm going to fall out of them. Not normally too big of a problem, but when you are jutting out over a big drop into a Balinese jungle gorge, it gets a bit more sketchy.
I'm happier using one of the individual (and less precariously positioned) horizon-edge plunge pools that come with the rooms and suites at the Ubud Hanging Gardens in Bali. For those of you who are wired normally, the split-level pools are the stars of this luxury resort with lush looks to rival the even lusher setting. Perched amid volcanoes, rice terraces and gardens designed by John Pettigrew, Ubud boasts cocoa and coffee trees, ornamental orchids, and of course Bali's own beautiful forest as surroundings.
You can buy local ornaments at the gift shop, but the best thing you'll be taking home with you are the mental images (and the ones on your camera) of the infinitely magnificent setting.
Source: