One of our favorite destinations to explore with the family in San Francisco are the trails that run throughout the Presidio National Park. Today, we walked "Lover's Lane", the oldest foot trail in the Presidio.
Lovers Lane is an easy .6 mile walk straight line down (or up) the hill in a paved pathway. We started at the Presidio Boulevard Gate and ended at Funston Avenue & Presidio Blvd. It was a beautiful scenic walk with the fragrance of the eucalyptus trees.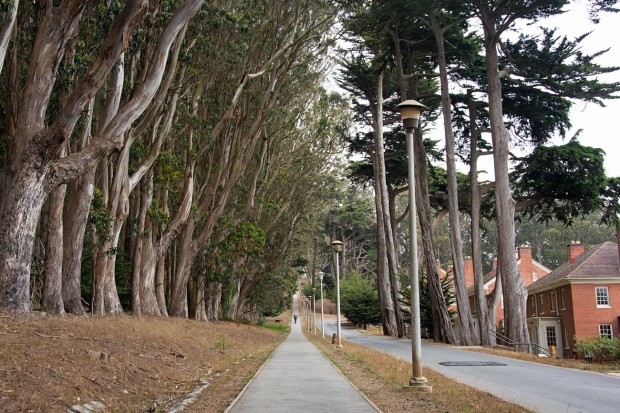 The right side of the path is bordered by a dense forest of eucalyptus, cypress and pines which were planted by the military in the late 19th century. On the left side we passed a charming row of historic military housing. There were also wild blackberries on both sides on part of the trail.
The Presidio is rich in military and social history. Lovers Lane got its name because this route was traveled 150 years ago by soldiers on the way to town to meet up with their sweethearts.
Parallel to Lovers' Lane you can find the "Wood Line", an outdoor piece of art by British artist and environmentalist Andy Goldsworthy.
This installation was constructed in a large gap inside the eucalyptus forest where the cypress trees planted in the 1890s died over time. Wood Line was created by trimmed branches, felled trees and eucalyptus trunks collected from the Doyle Drive reconstruction. Each piece of log was carefully selected to create a continuous curving line through the forest landscape. Over time this installation will decompose and return to the earth.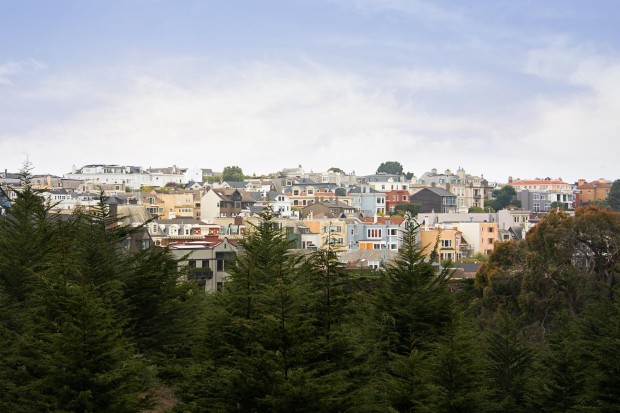 It was a fun family day in a beautiful location…. it was a place for everybody, there were sweethearts, hikers, joggers, kids (and adults) climbing and balancing on top of the wood line and nature lovers…even a team of videographers filming a documentary about the wood line.